Best Photo Locations
Best Mansfield Photo Locations
The Best Mansfield Photography Locations (including Joe Pool Lake) with an Interactive Map and Example Images!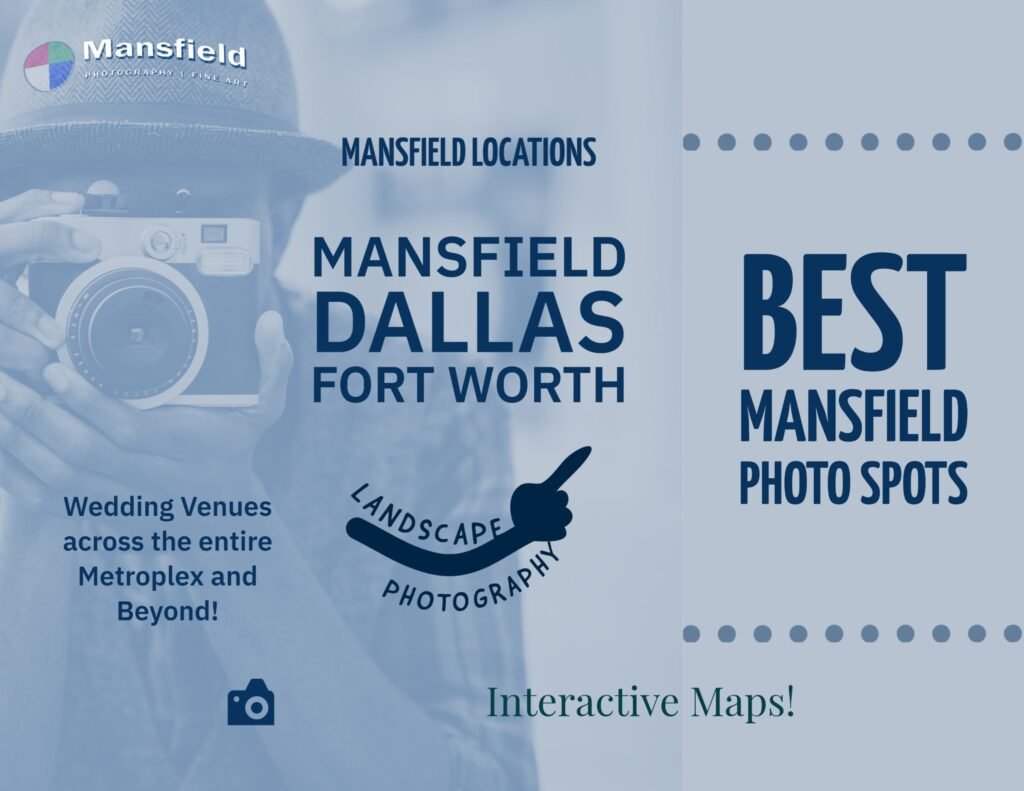 Photography in Mansfield, Texas
Nestled in the heart of North Texas, Mansfield is a city that offers a diverse range of photography opportunities, with Joe Pool Lake as one of its most alluring subjects.
Joe Pool Lake, situated on the outskirts of Mansfield, is a picturesque reservoir surrounded by lush greenery and natural beauty. Photographers flock to its shores to capture the tranquil waters, vibrant sunsets, and abundant wildlife. The lake provides a stunning backdrop for landscape and nature photographers, and it's a haven for birdwatchers looking to document the various avian species that call this area home. Whether you're interested in capturing the calm reflections of the lake at dawn or the vibrant colors of a sunset over the water, Mansfield's proximity to Joe Pool Lake makes it an ideal locale for those seeking to explore the beauty of the outdoors through their lens.
Beyond the lake, Mansfield offers a charming and photogenic cityscape. The historic downtown area showcases a blend of modern amenities and preserved heritage buildings, making it a great location for urban and architectural photography. The city's parks, trails, and community events provide numerous opportunities for capturing candid moments and family portraits. With its inviting atmosphere and diverse range of photographic subjects, Mansfield, Texas, is a hidden gem for photographers looking to capture the essence of suburban life while enjoying the natural beauty of Joe Pool Lake.
If looking for the exact spots for the best Mansfield photo locations, scroll to the bottom for an interactive map.
Mansfield Photo Locations
Britton Park
Uses: Landscape Photography, Portraits
Britton Park offers a haven for capturing the beauty of sunrise and sunset moments. This tranquil location is rarely crowded, making it perfect for reflection photos as the sun sets. When the water levels are low, a leisurely stroll from the boat ramp eastward and then north along the lake provides an excellent opportunity to capture stunning sunrise shots. Additionally, during April, you can witness a profusion of spring flowers in full bloom, making it an ideal time to visit. Don't miss the video showcasing imagery from Britton Park, Lynn Creel Marina, and my charming hidden pond!
Bowman Branch
Uses: Landscape Photography
The photography composition found at Bowman Branch is truly a hidden gem. During the right season, the rising sun bathes this location in perfect light, unveiling breathtaking landscape shots. It's worth noting that parking can be a challenge, with only a few legal parking spots available nearby. However, the rewards in terms of capturing top-quality photos make this spot well worth the effort.
One of our top compositions, shown here, is called "First Light". You can read about how this image came to be:
Lynn Creek Marina
Uses: Landscape Photography, Portraits
Lynn Creek Marina, located adjacent to Lynn Creek Park, stands as a cherished destination for landscape photography enthusiasts. Abundant wildlife, particularly during the spring season, including ducks, egrets, coots, and various other bird species, adds to the natural beauty of this spot. It's a perfect location for capturing stunning sunrise photos. As the sun ascends, the bird activity in the area increases, so be prepared to adjust your shutter speed to capture their graceful movements. Additionally, during the Christmas season, Lynn Creek Park hosts the spectacular Grand Prairie Lights, adding to its charm and appeal as a year-round photographic destination.
Cedar Hill State Park
Uses: Landscape Photography, Portraits
Cedar Hill State Park ranks among our preferred nearby parks for landscape photography. It boasts a special allure for capturing breathtaking sunsets, thanks to the ample distance of the lake shore to the west, which allows the setting sun to appear magnificently expansive. The historic Penn Farm on the premises offers an intriguing visit for those interested in its heritage.
Convenience is on your side when it comes to parking, as you can park very close to the lakeshore. Additionally, Cedar Hill State Park presents an ideal setting for portrait photography and photoshoots, making it a versatile and picturesque location for photographers of all styles.
Walnut Creek
Uses: Landscape Photography
Walnut Creek, a meandering waterway that flows into Joe Pool Lake, stretches a considerable distance. This specific site can be found along the Mansfield Linear Trail, with a couple of conveniently situated parking spots on Fox Hollow Drive nearby. The creek exhibits charming natural features, and what makes this spot truly enchanting is the captivating bend in the creek that frames the trees in the soft morning sunlight, creating a truly beautiful scene.
Hidden Pond
Uses: Landscape Photography
This Mansfield photography location shines for landscape enthusiasts, but its appeal can vary with the seasons. It comprises a pond/marsh area that may dry up depending on rainfall, and interestingly, it's not even marked as a water feature on maps. This locale is frequented by ducks, Great Egrets, and a variety of other birds.
Furthermore, this area serves as an excellent setting for photographing enchanting water reflections of trees and clouds. The best time for shooting photos here is during the morning, ideally 15-30 minutes after sunrise, while sunset shots may not yield the same results.
Although parking may be a bit challenging, requiring you to park at a safer distance and walk to the location, the experience and photographic opportunities that await are unquestionably worth the effort.
Downtown Mansfield: Portraits!
Uses: Portraits
Mansfield boasts a captivating downtown area, although capturing those enchanting golden hour photos can be somewhat challenging due to the street's orientation in relation to the sun, along with the presence of stoplights and trees that obscure some of the buildings' finest details. Nevertheless, this locale shines as an exceptional choice for portrait sessions and photoshoots.
Here, you'll discover a wealth of diverse textures, colors for backgrounds, and unique features that add character to your photography. While it might not be the ideal spot for golden hour shots, it certainly offers a treasure trove of opportunities for creating compelling portraits and capturing artistic images.
Oliver Nature Park
Uses: Landscape Photography, Portraits
Elmer W Oliver Nature Park offers delightful opportunities for capturing springtime flower scenes, timeless landscape shots throughout the year, and is arguably the premier location in Mansfield for portrait sessions and photoshoots. If you're considering a photoshoot and reside in the Mansfield vicinity, this park undoubtedly deserves a prominent place at the top of your list of preferred locations.
Best Mansfield & Joe Pool Lake Photography Locations : Interactive Map
Photo Locations:
Dallas | Fort Worth | Mansfield | DFW Other | Wedding Venues